Furious
Technological Feminism and Digital Futures
Caroline Bassett, Sarah Kember, Kate O'Riordan
(Pluto Press 2019)
As digital transformations continue to accelerate in the world, discourses of big data have come to dominate in a number of fields, from politics and economics, to media and education. But how can we really understand the digital world when so much of the writing through which we grapple with it remains deeply problematic?

In a compelling new work of feminist critical theory, Bassett, Kember and O'Riordan scrutinise many of the assumptions of a masculinist digital world, highlighting the tendency of digital humanities scholarship to venerate and essentialise technical forms, and to adopt gendered writing and citation practices. Contesting these writings, practices and politics, the authors foreground feminist traditions and contributions to the field, offering alternative modes of knowledge production, and a radically different, poetic writing style.

Through this prism, Furious brings into focus themes including the automation of home and domestic work, the Anthropocene, and intersectional feminist technofutures.

News and Updates


Why Poetry?
Dartmoor inspires a pandemic project

Dartmoor Links, November 2020

Redux Online Webinar:
An Altered Landscape: The Impact of COVID-19 on University Presses

20 October 2020
https://www.cambridge.org/engage/coe/article-details/5f875ac2bf257d00183e5cf6

Just published: a white paper on the future of scholarly communications
https://commonplace.knowledgefutures.org/pub/rqaoavw9/release/1

"Writing out of Turn"

Just published in Transmissions. Critical Tactics for Making and Communicating Research
(ed Kay Jungnickel, The MIT Press 2020)
Poetry and Fiction
Goldsmiths Press is commissioning poetry and short fiction that reflects on the current pandemic from the perspective of social, economic and environmental justice. We are inviting our authors to write something new or propose a piece of their existing work that might be relevant. If selected, we will publish this open access (free of charge, and for all to read) on our website and on MIT's platform, PubPub.
We feel that poetry and short fiction are important ways in which to respond, rethink and rebuild in times of uncertainty. If you have an idea to put forward, please send us a short outline. We would love to hear from you and please do pass this invitation on to any other academic colleagues you think may be interested in contributing
Contact
Ellen Parnavelas
e.parnavelas@gold.ac.uk
Sarah Kember
s.kember@gold.ac.uk
Guy Sewell
g.sewell@gold.ac.uk
Blogs and Opinion Pieces
Goldsmiths Press is commissioning blogs, opinion pieces, essays and speculative writing from UK and international scholars that reflect on the current pandemic from the perspective of social, economic and environmental justice. In addition to analyses of our present situation, we encourage authors to engage with and develop the prevailing sentiment that, post Covid-19, we cannot and should not return to "life as we know it". What might a different future look like? Contributions will be published open access (free to publish and free to read) on the Goldsmiths Press website and on The Commonplace (a publication of the Knowledge Futures Group).
Contact
Sarah Kember
s.kember@gold.ac.uk
Catherine Rottenberg
catherine.rottenberg@nottingham.ac.uk
Guy Sewell
g.sewell@gold.ac.uk
Interviews


2018 Interview on BBC 'Click' on gender and technology, at The Design Museum
https://www.bbc.co.uk/programmes/n3ct4dzf
2017 Interview on Late Night Woman's Hour (women in tech)
https://www.bbc.co.uk/programmes/b095tsg8
2017 Interview in BBC Science Focus 'Is the effort to get more women in stem worth it?' Alexander McNamara
Link to interview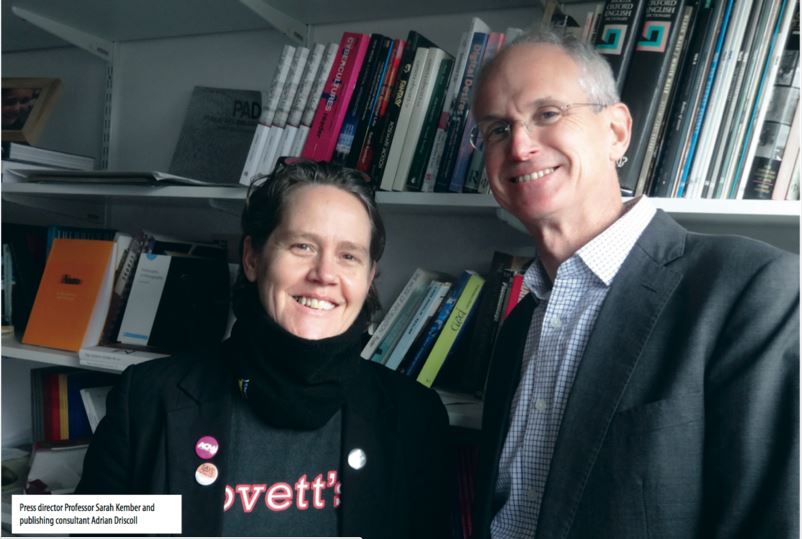 Growing for Goldsmiths
Interview by Benedicte Page, The Bookseller
March 1, 2016
The Bookseller
2015 Interview for The Atlantic 'Why Aren't There More Women Futurists?' Rose Eveleth, July 31
2015 Interview for Tea After Twelve (re:publica, Berlin)
Selected Talks and Performances
'Automation, acceleration, communication'

MeCCSA
Brighton
January 2020
'Priorities for open access book publishing'

Westminster Higher Education Forum policy conference
Next steps for delivering open access in the UK
London
November 2019
'Practice-led Publishing'

Great Writing International Creative Writing Conference
Imperial College
London
July 2019
'Money, Mandates and Models'

Association of University Presses (AUP 2019)
Detroit
June 2019
'Why I didn't want to talk about pink phones'

Histories and Myths of the 21st Century Home Festival
Design Museum
London
March 2019
Extended interview on gender and technology

BBC 'Click' and The Design Museum
December 2018
'Dead Again?'

Knowledge Exchange workshop on open access monographs
Brussels
November 2018
Opening plenary (chaired by Dame Janet Finch, with Director of Research, Research England) Open Access Monographs: an event for learned societies and subject associations

UUK/Research England
British Academy
September 2018
Opening plenary (with Director of Research, Research England) 'Openness and Policy: how should we accelerate a transition to open access?'

ALPSP (Association of Learned & Professional Society Publishers)
September 2018
'What can feminism still do?'

Defragmentation
Darmstadt Summer School
Darmstadt
July 2018
'Situated knowledge and feminist epistemology' Making Contact (how should we prepare to make contact with Extraterrestrials?)

Berkeley SETI Research Centre and Massachusetts Institute of Technology
May 2018
'Voicing new forms of scholarly publishing'

International Communications Association
Prague
May 2018
"So fucking Goldsmiths (SFG)?' Identity, intervention and collaboration in scholarly publishing'

University Press Redux
British Library
February 2018